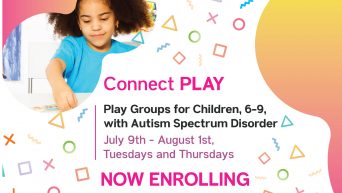 Event Time:

Location:

Lawrence Hall Main Campus
Click 'Enroll Now' above, then choose the green 'Tickets' button to sign up
Lawrence Hall is excited to announce summer play groups for children ages 6-9 who have unique needs associated with having Autism Spectrum Disorder.
Connect PLAY

provides play opportunities that are flexible and suited to the needs of the children attending each group.

Connect PLAY

are small groups that help children practice and learn new skills in a safe and friendly environment.
July 9th – August 1st, Tuesdays and Thursdays


1:30 – 3:30 P.M. at Lawrence Hall's Main Campus
4833 N. Francisco Avenue, Chicago IL 60625
Tuesdays & Thursdays $480

Thursdays Only

$240

Tuesdays Only

$240
•

Structured Play


•

Music Therapy


•

Arts & Crafts


•

Positive encouragement


•

Visual aids


•

Smaller group sizes


•

Modelling of physical play and social activities


•

A range of activities designed around the interests
and needs of each child.


•

Located in the Albany Park & Lincoln Square Communities
Have questions? For more information contact Renee: at rlehocky@lawrencehall.org
or at 773-334-7304