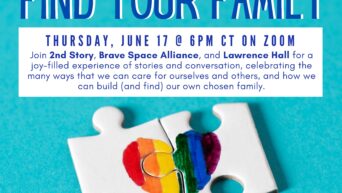 Find Your Family
Thursday, June 17, 2021
6:00pm CST
Queer youth who have been shunned or disowned by their families often wonder: What will my life look like? Where is there space for me? Who will take care of me? Join 2nd Story, Brave Space Alliance, and Lawrence Hall for a joy-filled experience of stories and conversation, celebrating the many ways that we can care for ourselves and others, and how we can build (and find) our own chosen family. Featuring storyteller Chris Thoren, Jae Rice (Brave Space Alliance), and Evelyn Zatkoff (Lawrence Hall) in conversation with Sheree L. Greer (The Kitchen Table Literary Arts Center).
2nd Story uses the conferencing system Zoom. On the day of the event you'll receive an email around 5:15pm CST with the Zoom access code to join the event at 6:00pm CST.

Find storyteller bios, virtual access information, and tickets at www.2ndstory.com/findyourfamily.