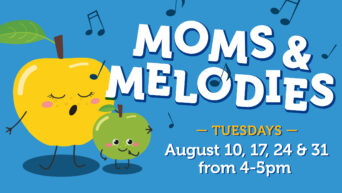 Event Time:

Location:

Lawrence Hall South Shore Campus
— Lawrence Hall, Catholic Charities, and WIC Grocery present —
Moms & Melodies
WHO: Mothers* & one 1- to 3-year-old baby
WHERE: Lawrence Hall, 1818 E. 71st St., Chicago, IL 60649
WHEN: Tuesday, August 10, 17, 24, and 31 from 4-5pm
Bring your toddler for a FREE musical bonding experience where you'll play instruments with your baby and receive access to parenting resources. In each session, you will learn:
How to connect with your baby through music
Fun, musical ways to help your baby develop and learn
Where to find nutritional and other parenting resources
Attendance at all four sessions is encouraged but not required. All sessions are facilitated by a board-certified music therapist and a WIC representative. No musical experience required. Download our full flyer here.
To find out more or register, contact Trisha at (773) 865-4940 or twentworth@lawrencehall.org.
* Must be enrolled in Lawrence Hall programming AND/OR be eligible for WIC benefits. Please do not bring more than one baby at this time.