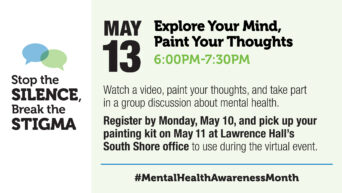 May is Mental Health Awareness Month, and more than ever, we're seeking to break the stigma around mental health and make getting help as normal as going to the dentist. You're invited to join our conversation!
—

What can you express without using words? During this event, watch a video about mental health and paint your thoughts afterwards. This artistic session will end with a group discussion about mental health.
Register by Monday, May 10, and pick up your painting kit on May 11 at Lawrence Hall's South Shore office to use during the virtual event.
Register through the button above or on our Eventbrite page.