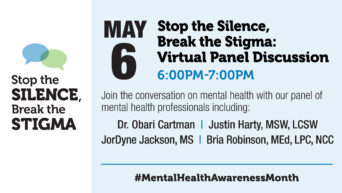 May is Mental Health Awareness Month, and more than ever, we're seeking to break the stigma around mental health and make getting help as normal as going to the dentist. You're invited to join our conversation!
—

Have questions about mental health? Join us online to hear from a panel of community mental health providers for an open discussion about mental health and how to break the silence around this important topic. Our speakers include:
Dr. Obari Cartman
Justin Harty, MSW, LCSW
JorDyne Jackson, MS
Bria Robinson, MEd, LPC, NCC
Register through the button above or on our Eventbrite page.