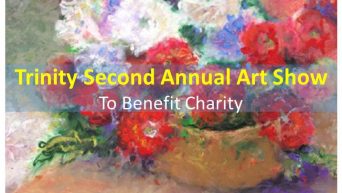 Event Time:

Location:

Trinity Episcopal Church
A longtime generous partner to Lawrence Hall, Trinity Episcopal Church in Wheaton, is holding it's 2nd Annual Art Show Benefit on Friday, November 3, 2017.
Lawrence Hall is one of five chosen organizations that that all proceeds of the event will directly benefit. We will be at the event selling our 2017 holiday cards, Lawrence Hall mugs, and matted prints from some of our talented youth artists! Get your Holiday Shopping done early & while supporting organizations that help the most vulnerable.
Featuring artwork from DuPage Art League Artists: George Bruce, Nancy Gatfield, Marge Hall, Carol Kincaid, Suzanne Massion and Diana Mitchell.
For more information about this extraordinary event, please call Trinity's Church Office – 630-665-1101 or visit the 2nd Annual Art Show Benefit's Facebook page at here.
The event offers a discounted ticket of $20 if you purchase ahead of time, $30 at the door. 
WHERE: Trinity Episcopal Church,  130 N. West, Wheaton, Illinois 60187
WHEN: Friday, November 3, 6:30 – 9:30 P.M.