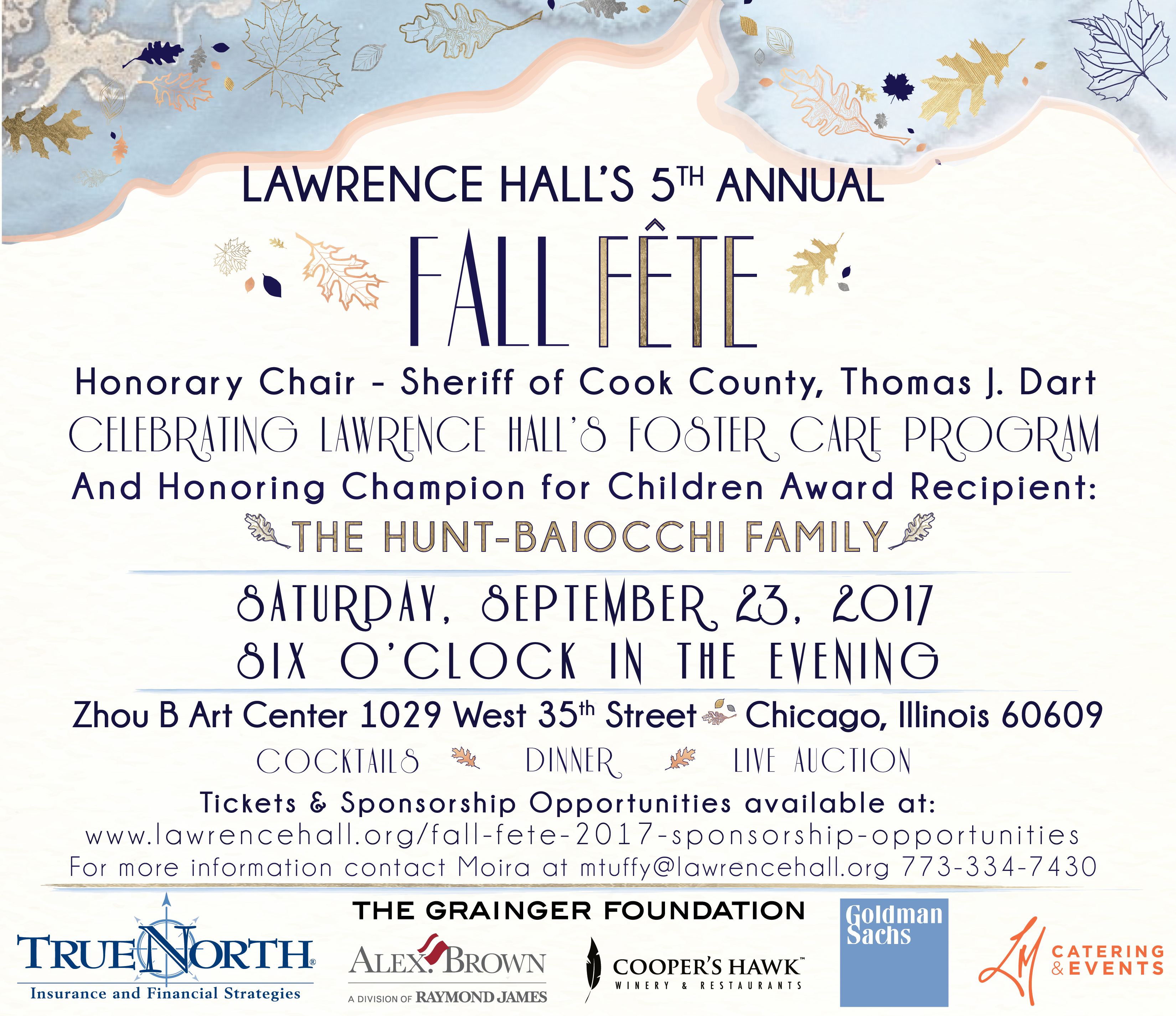 Join us, along with Honorary Chair Sheriff of Cook County – Thomas J. Dart, for Lawrence Hall's 5th Annual Fall Fête: Celebrating Lawrence Hall's Foster Care Program and Honoring Champion for Children Award Recipients: The Hunt-Baiocchi Family. Emceed by artist & activist Ari Afsar currently starring in 'Hamilton' Chicago as Eliza Hamilton. 
Saturday,  September 23, 2017 from 6:00 P.M. – 10:00 P.M. at the Zhou B Art Center. 
Proceeds benefit Lawrence Hall's mission of embracing at-risk youth and their families by instilling resilience, healing and changing lives for good.
Sponsorship Opportunities
Sign up below or download form
Advocate for Justice $15,000
Box lunch for 30 delivered to your office, on a mutually agreed upon date, made by Try-Me's, Lawrence Hall's culinary arts program and student-run deli
Logo/name listed on the event invitation
Logo/name on evite, all social media promotions, and Lawrence Hall website
Acknowledgement on all other event print and on-line communications
Verbal recognition of sponsorship by event emcee
Full-page ad in the event program and display of name/logo on video screens at event
Includes 2 tables of 10 each
[add_to_cart id="7903"]
Champion for Families & Communities $10,000
Box lunch for 20 delivered to your office, on a mutually agreed upon date, made by Try-Me's, Lawrence Hall's culinary arts program and student-run deli
Logo/name listed on event invitation
Logo/name on evite, all social media promotions, and Lawrence Hall website
Acknowledgement on all other print and on-line materials
Verbal recognition of sponsorship by event emcee
Half-page ad in the event program and display of name/logo on video screens at event
Includes 1 table of 10
[add_to_cart id="7894"]
Activist for Education $7,500
Logo/name to appear on evite, all social media promotions and the Lawrence Hall website
Acknowledgement on all other event print and on-line materials
Quarter-page ad in the event program and display of name/logo on video screens at event
Includes 1 table of 10
[add_to_cart id="7895"]
Leader for a Brighter Future $5,000
Logo/name appear on Lawrence Hall website and on event signage
Business card ad in event program
Includes 1 table of 10
[add_to_cart id="7898"]
Table Sponsor $2,500
Name listed in event program
Includes 1 table of 10
[add_to_cart id="7899"]
Individual Ticket $250
[add_to_cart id="7893"]
Full-Page Ad $1,000
Full-page color ad included in Event Program Book
[add_to_cart id="7914"]
Half-Page Ad
Half-page color ad included in Event Program Book
[add_to_cart id="7915"]
Quarter-Page Ad $250
Quarter-page color ad included in Event Program Book
[add_to_cart id="7916"]
Business Card Ad $150
Business-Card size color ad included in Event Program Book
[add_to_cart id="7917"]