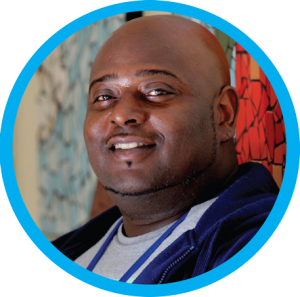 For 10 years, Randle Rockford has been a bridge over troubled waters for scores of young men and their families, working to keep them connected as their liaison for treatment teams. He knows that keeping the families involved provides better outcomes and permanent success for the Lawrence Hall youth. For years, his job has been a calling; he works with sexually problematic teens that require intensive supervision and support. Randle balances a mix of duties that include supervising youth at Lawrence Hall and during their family visits and in-home visits.
This year, however, Rockford (as he is called by colleagues and youth) can add to his calling and his title, as he became Lawrence Hall's award-winning Residential Treatment Specialist, thanks to recognition from the Association of Children's Residential Centers (ACRC).
Rockford was celebrated with ACRC's 2016 Albert E. Trieschman Award, which honors child care workers in residential treatment centers who embody commitment and dedication. The nominations submitted by his supervisor, peers and clients, cited his genuine interactions with the children he serves and his reliability as an "unwavering rock" at Lawrence Hall.
"I appreciated being nominated but I didn't realize the magnitude of the award until I attended the awards luncheon," he says, where he met people from across the United States. "Seldom do you get recognition in this field," he added, "but I don't do it for the recognition."
"Mr. Rockford represents consistency, hope, and compassion for so many Lawrence Hall youth. The work he does is important." -Tenilya Mumphus, Treatment Coordinator Lawrence Hall
But recognition comes nonetheless. He regularly receives calls and visits from young people he has helped in the past, and those who currently receive his support aren't shy about their appreciation. "I thank you for your support when I didn't have anyone (sic) else around me at Lawrence Hall," wrote one young man. "When I first got here, you were (sic) the only person I talked to. If I don't say it enough, I just want to say thank you for everything you've done for me."
Tenilya Mumphus, a Treatment Team Coordinator at Lawrence Hall – and Rockford's supervisor – says that it's her privilege to work with him. "Mr. Rockford represents consistency, hope, and compassion for so many Lawrence Hall youth. The work he does is important. The time he spends with clients is important. The difference he makes every day is important," she says.
What drives Rockford is the desire to help young people from troubled backgrounds, with whom he can relate because of his own childhood. His tremendous empathy for them, along with his willingness to be honest with them, removes barriers and builds trust.
"Many of the children who arrive at our facility come from a long history of severe trauma and abuse. Often they have extremely distorted views of all adults and care takers. Mr. Rockford works tirelessly to undo those views and provide safety and security for them," says Brandon Gorson, a Licensed Clinical Professional Counselor and the Clinical Services Manager at Lawrence Hall.
Rockford is inspired by the young people he serves, recalling one who "had a really bad start in life," he says, but never gave up on himself. "I watched his struggles and achievements, I thought, "If he didn't give up, I can't give up." Seeing him still try to make a better life for himself after all that had happened to him was motivating to me."