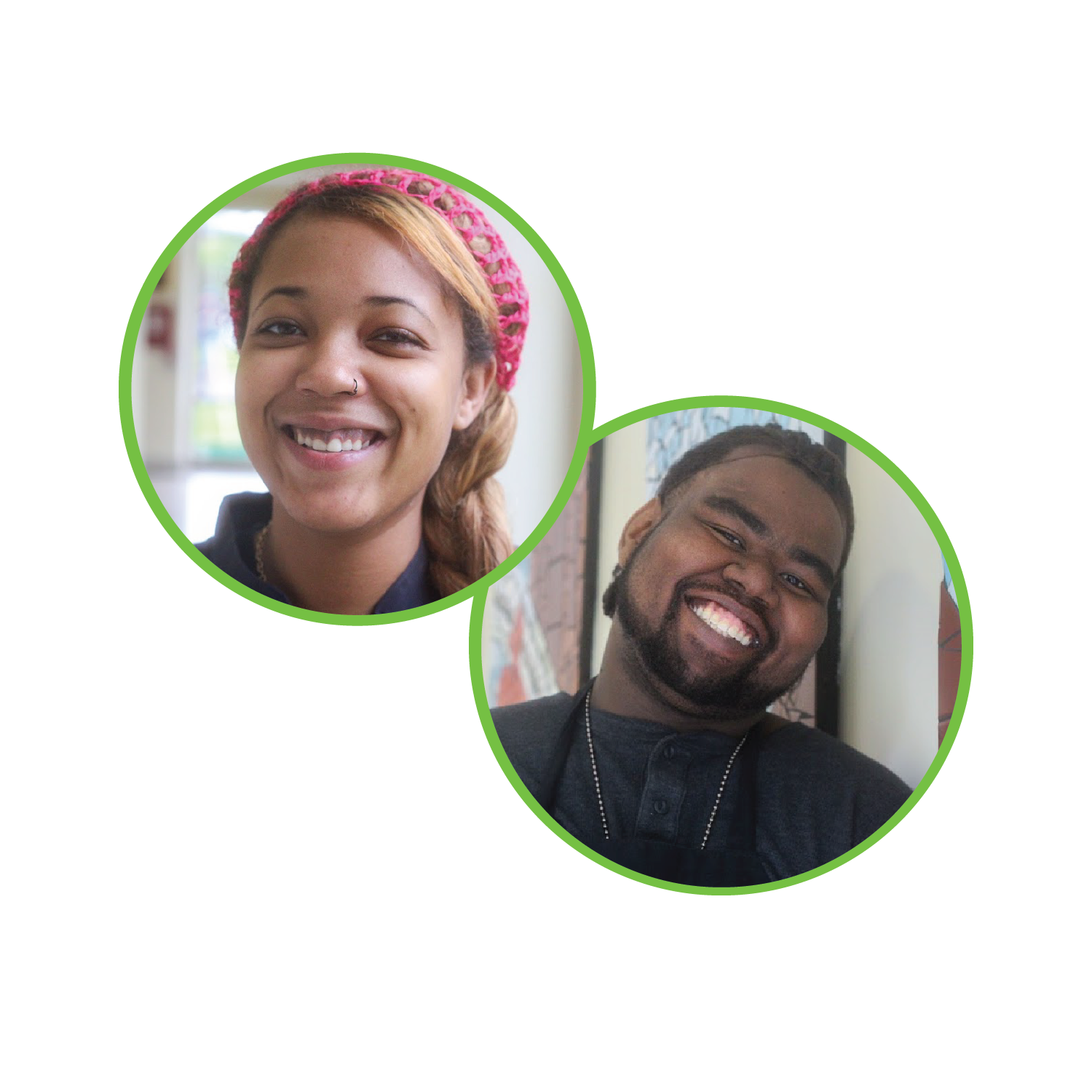 For years, Aarin Fisher spent a lot of time in the kitchen, stirring her passion for cooking even as she pursued a college degree in English. "I found that I was enjoying cooking for my friends more than I was enjoying the classroom," she says. Sheepskin in hand, she enrolled in culinary school, moved to Chicago and landed a series of food service positions.
TAs she was discovering her love for the kitchen, a future Lawrence Hall employee was debuting his skills: Dequarian, then age 15, made his first meal, filling the rooms of his west side home with the aroma of fried tilapia and potatoes.
Today, their paths have crossed in Lawrence Hall's kitchen, where Aarin is the kitchen supervisor and dinner chef, and Dequarian a member of her team. Together, these "foodies" help ensure that Lawrence Hall's residents enjoy tasty, healthy meals daily, while also showing the power of the hearth in transforming lives.
When Aarin first came to Lawrence Hall three years ago, she found more than a job – she found a calling. Over meals, she built relationships with her young diners, encouraging them to access the resources at Lawrence Hall. "This may not be a luxurious job but it's something I'm passionate about," she says. "It sounds corny, but I do realize the difference I'm making in people's lives." She cherishes giving guidance and loves it when young people see their potential. One person she's particularly impressed with is Dequarian, whom she calls a success story.
""I know that I'm doing something positive in my life, and that I'm not stepping backwards, I'm stepping forwards." - Dequarian, Lawrence Hall Youth
Dequarian was first in Lawrence Hall's residential treatment program. He was angry and distrustful and he needed to learn to trust again along with developing healthy coping skills. He progressed, moving into Lawrence Hall's transitional living program and he will soon be moving into his own apartment. He has participated in the MY TIME program, which provides him with real-world work experience. "The kitchen supervisors give me opportunities to learn new things, teach me work ethics like staying positive, and teach me how to cook a little bit more," he says. Indeed, the 19-year-old now knows how to prepare several cultural dishes; he plans to go to culinary arts school and dreams of having his own restaurant, "DT's Famous Kitchen."
For both Aarin and Dequarian, their time in the Lawrence Hall kitchen has been as sweet as pie. "It wasn't until I began working at Lawrence Hall that I felt that I belonged somewhere," says Aarin. "I know that I'm doing something positive in my life, and that I'm not stepping backwards, I'm stepping forwards," says Dequarian.