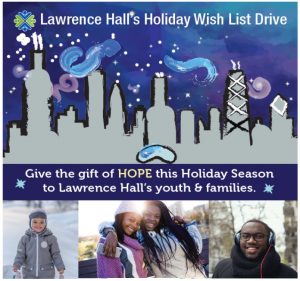 Help make the Holidays a hopeful time for our youth and families by ensuring they have a gift to open this Holiday Season. Here's how we can come together to give our youth the joyful Holiday experience they deserve:
REQUEST A WISH LIST
Shop for an individual youth! Each of our 700+ youth at Lawrence Hall have filled out a Wish List of items $50 and under they want this Holiday Season: Request & fulfill wish list(s) by emailing Laryssa Click here to Email
HOST A GIFT DRIVE

Get your church or office involved by hosting a gift drive! Our kids need:
Warm Clothing, including plenty of larger young adult sizes
Teenage friendly gifts, hygiene products, perfumes & cologne
Toys & Baby Clothes
Arts & Crafts Items
Books for all ages
To set up your Wish List Drive, email Laryssa Click here to Email
SHOP OUR AMAZON WISH LIST
DONATE ONLINE

Donate online to our Wish List Fund. With your help and generosity, we'll do the shopping to ensure all of Lawrence Hall's youth have a gift to open this Holiday.