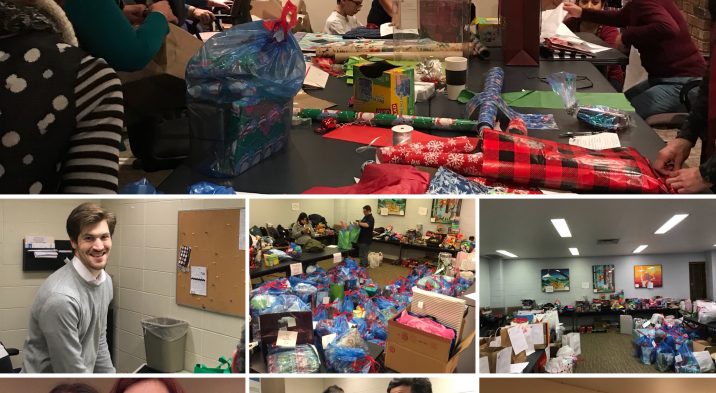 Lawrence Hall donors helped raise funds and collect gift items for a record breaking 700 Lawrence Hall youth this Holiday Season! Lawrence Hall's annual Holiday Wish Drive, collects gift items & donations for youth in Lawrence Hall's programs, newborn – 24, and ran this year from early November through December 11, 2017. The drive, which provides each Lawrence Hall youth an item to open for the Holidays, was powered by the generosity and support of it's incredible participants. Attendance at the Holiday Gift Wrapping Party, was at it's highest ever as volunteers gathered to help wrap gifts on the evening of December 14th at Lawrence Hall's Main Campus in Albany Park.
"Thank you to everyone who made every part of this holiday magic happen!" said Laryssa Sykes, Development Coordinator at Lawrence Hall, "We had such fantastic support this year from Macy's, Kenilworth Union Church, Northshore Elks Lodge No.1316 and so many more who took on our youth's wish lists! Each of you played a key role in making sure our Lawrence Hall youth felt supported, special and hopeful this holiday season. No action was a small one; to those of you who wrapped, shopped, donated, delivered and packed – we are forever grateful for your overwhelming kindness."
Participating organizations included: Macy's, Kenilworth Union Church, The Office of Alderman Ameya Pawar, Elks National Foundation: Chicago Northshore Elks Lodge No 1316, American Library Association, Discover Financial Services, Stratosphere Networks, ownerIQ, Kenilworth Union Church, Emmanuel Episcopal Church of La Grange, PEAP Neighborhood Block Club, William Blair, Accuity and Alex Brown: A Division of Raymond James.